News: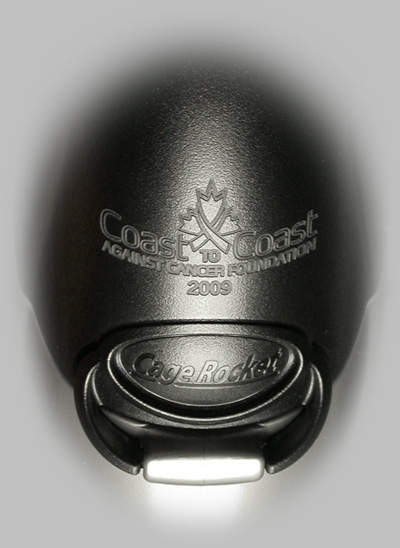 Cage Rocket participated as a Significant Sponsor for the Sears National Kids Cancer Ride this year. To the right is a picture of the beautiful product we donated with three dimensional logo engraved on waterproof lids. Below is a flash picture viewer of the some of the riders with their Cage Rockets during the ride. To think they go 7000k in 12 days is amazing.
On June 13, 2009, 36 selected National Riders began a 12-day, 7,000 km trans-Canada odyssey from Vancouver to Halifax.
They visited 163 communities and they were joined by hundreds of other caring cyclists who cycled shorter distances along the way in cities across Canada.
Together, our cyclists raised over 1.5 million dollars (and still counting) on behalf of charities that improve the quality of life for children, and their families, living with and beyond cancer. Our destination - beyond cancer!
The route visits many of Canada's 17 paediatric oncology centres and hospitals where the cancer community share inspiring stories of strength and hope with cyclists and the media.
100% of the money raised is given directly to worthy local and national charities in your community, including paediatric oncology centres and hospitals across the country.
Planning is underway and applications being accepted for our 2010 event. We invite you to join us in the fight against childhood cancer. Ride, Donate, Volunteer...it's in your hands www.searsnationalkidscancerride.org

ICLETTA GmbH recently exhibited at SPEZI, the most important Recumbent Bike Show in Germany. ICLETTA also updated their web site, and you can now buy Cage Rocket Clipped Dry SPod's at their online storefront.
Pics of the SPEZI show are below: